The BFA is committed to supporting the British footwear industry in the development and training of new and inspired people. We encourage anyone who is looking to learn new skills and join a fast growing and varied profession to pursue a career in this globally renowned industry.
The footwear industry offers apprenticeships in a range of different areas, from technical roles to footwear production. By becoming an apprentice you will get the opportunity to:
Work directly with an experienced team
Gain job-specific skills
Earn a salary and get holiday pay
Take time to study and further your development
Below are a selection of apprenticeships which are currently open. Please note that all apprenticeships are managed through the relevant businesses, the BFA does not run apprenticeship schemes and cannot take applications for apprenticeships.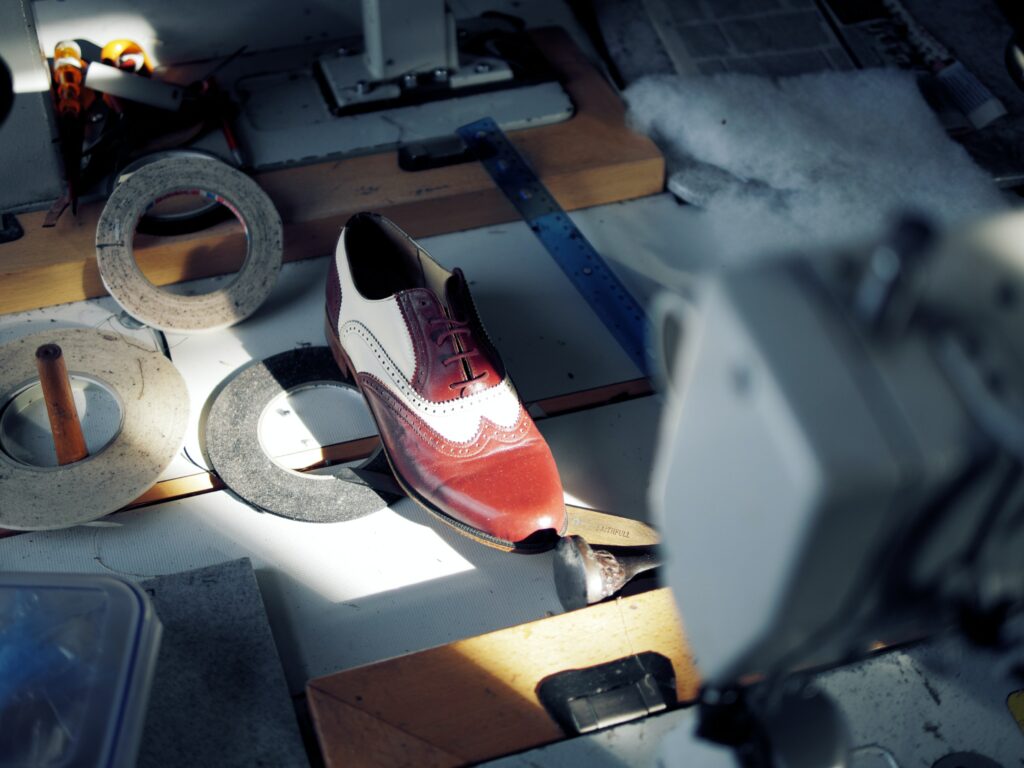 Footwear Manufacturer Apprenticeship Entry level 2
A career in Great British footwear manufacturing is full of possibility for new entrants. BFA has supported the footwear manufacturing industry to create a new apprenticeship in footwear manufacturing. A guide for learners can be found here, and a guide for employers can be found here.
Beautiful footwear manufactured in the UK remains in high demand throughout the world and this apprenticeship will open the industry to a new generation of craft manufacturers, shoemakers, technicians and managers.
This apprenticeship is currently only available through Northampton College and servicing the Northamptonshire premium cluster of manufacturers. If you would like to apply for an apprenticeship you can register your interest (title your email 'Footwear Manufacturing Apprenticeship') to this email address: Business.centre@Northamptoncollege.ac.uk
Employers and members can also contact: training@britishfootwearassociation.co.uk for further details.
Footwear Technologist Apprenticeship Level 4
A new Fashion & Textiles Product Technologist apprenticeship standard is now approved and suitable for companies wishing to train footwear technologists.
This follows negotiation with the garment industry by BFA, and we are immensely grateful to the employers on the garment technology Trailblazer group who allowed us an 11th hour intervention.
BFA is working to support the provision of training for this key role.
The online standard is crucial reading for any employer wishing to train a footwear technologist www.instituteforapprenticeships.org/apprenticeship-standards/fashion-and-textiles-product-technologist. The weblink also contains a link to the crucial end point assessment plan, which the apprentice will have to undertake at the end of the two year training period.
There are two training providers interested to deliver this training. Bridgewater College (South West and London) and Fashion Capital (London).
Bridgewater already have some interest from employers in footwear and the employer contact is VASSALLICOLLARDM@btc.ac.uk
Fashion Capital have long worked with retailers in the area of garment technology and are interested to expand into footwear technology, subject to achieving a viable cohort size. The contact is Jenny Holloway at jenny@fashion-enter.com
For further details, members may contact: training@britishfootwearassociation.co.uk