At the BFA we passionately believe that a key tool for ensuring you stay ahead of the curve is access to the latest industry data and an understanding of how this impacts you and your business. As a result, we have created exclusive industry reports detailing import, export and retail statistics, along with commentary and insights into what the data means for you.
These reports are released on a monthly and quarterly basis and are exclusive to our members. Read on to find highlights and salient points from this past year:
Retail
August sees highest sales figures in six months.
August saw the highest sales figures in six months with consumer demand increasing across retail, but falling for the footwear and leather goods sub-sector.
Import
The value of footwear imports was on the rise through June and beyond – following a seven year low in previous months.
China continues to retail the top spot as the dominant footwear supplier to the UK, but we are seeing implications for the Netherlands and Italy increasing their share.
Export
Footwear exports were down 19.5% across the first six months of 2020 – exports in May 2020 fell by 10.6% year-on-year lower than the previous year for the fifth consecutive month.
Germany showcased an impressive rebound in July, helping to offset declining shipments to the rest of the world.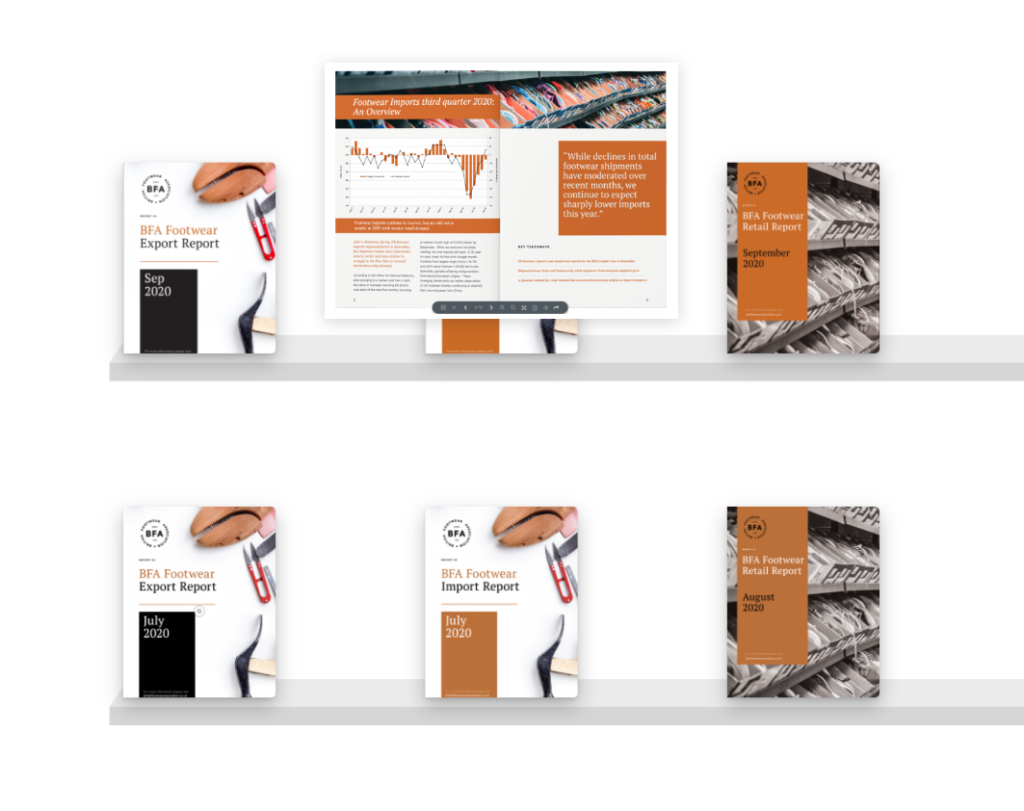 Sign in to the members area to access current and previous reports.
If you are not a member and would like to access the full reports, contact us on
info@britishfootwearassociation.co.uk
alternatively find out how to become a member of the BFA today: