Presented by Tim Flynn, Director at All Axis
We are pleased to welcome Tim Flynn, Director at All Axis to introduce the business in this webinar, which will be held on Wednesday 25th January 2023 at 10.30am.
All Axis creates fully interactive 3D photos of footwear for e-commerce sites and an engaging experience for customers. Its 3D photos are proven to boost online sales.
What is 3D for e-commerce and why it is vital for the future?
Tim will cover the following in the presentation:
What is 3D in e-commerce?
How does 3D work?
The benefits and challenges of using 3D for footwear brands, why it is vital for the future.
All Axis 3D Photos
All Axis 3D photos are instantly interactive on page load, have a minimal data load and do not effect page performance. The 3D photos give a life like depiction of the product, not an impression of what it should look like or something that feels computer generated.
All Axis provides an end to end solution with a single, easy to understand cost. Integration on all major e-commerce platforms is simple and we provide assistance.
After the presentation, there will be an open Q&A session. You will have the opportunity to ask any questions you may have to Tim.
Tim Flynn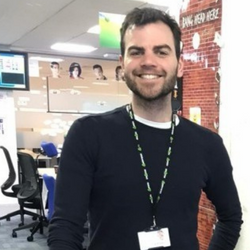 Co-founder of the technology start-up All Axis Studio. Currently leading All Axis' go-to-market strategy and product development. A mix of previous work in product photography creating 360 images, whilst also being a Project Manager in the financial services sector.