BFA Individual Member Gaynor Thomasson is on a mission to disrupt the children's footwear market with her concept brand, Heelz and Toez. Her sustainable and adjustable vision for kids' sandals has already won over Dragons and is beginning to make its mark on the sector. We caught up with Gaynor to find out more.
Since finding out just how damaging poor footwear practices can be on the planet, BFA Individual Member Gaynor Thomasson has been working to change consumers' disposable attitudes towards the shoes they buy. During the pandemic, she launched her debut brand, Heelz and Toez, focusing on a patented gliding mechanism that allows colourful kids' sandals to be adjusted for a more customisable fit.
Armed with her prototype, Gaynor took a big risk and entered the Dragon's Den on the hunt for investment. Having showcased her modular design concept to the Dragons, she managed to secure a £50k investment from legendary fashion retail entrepreneur Touker Suleyman.
However, as is the story of so many others, the pandemic brought with it some serious challenges for Heelz and Toez. With the dust now settling, the brand is starting to come out the other side and has exciting plans on the horizon. We sat down and spoke with Gaynor to learn more about her business and to discover how BFA Individual Membership is helping her develop in the footwear sector.
What encouraged you to become a footwear entrepreneur?
I have always loved shoes ever since I was a little girl. I would draw on my shoes and add bows and glitter. I liked having everything matching. I used to travel a lot; in the summer of 2014, I was in beautiful Sicily for the summer and always paid for excess luggage. That's where the idea of interchangeable straps started.
I looked at my luggage and realised that my shoes took up so much space and weight! On average, they weigh around 2.5 kg per pair. So, I thought, "If only I could interchange the straps, I could tailor my shoes to any outfit." This would use only around a tenth of the plastic and space; I could halve my luggage and still have a shoe for every outfit. So, I did some research to find a shoe-making course. Florence is the home of leather and shoes, so I decided to take a trip and investigate.
How did you come up with the idea for your modular design?
The story started when I was walking down a piazza in Florence. I was enjoying an ice cream when I noticed a guy on one knee measuring a woman's foot. The woman was American, and they were having difficulty understanding one another. I speak Italian, so I decided to help by translating. He was trying to explain that by drawing around her foot, he would make a template, designing the sandal around it to give her a tailor-made fit. He also explained the health benefits of having good-fitting shoes. I was intrigued. I had never realised that we have two different feet and that 65% of shoes do not fit. But not everyone can fly to Florence to have their feet measured. So I thought, "do we have to settle for bad-fitting shoes?"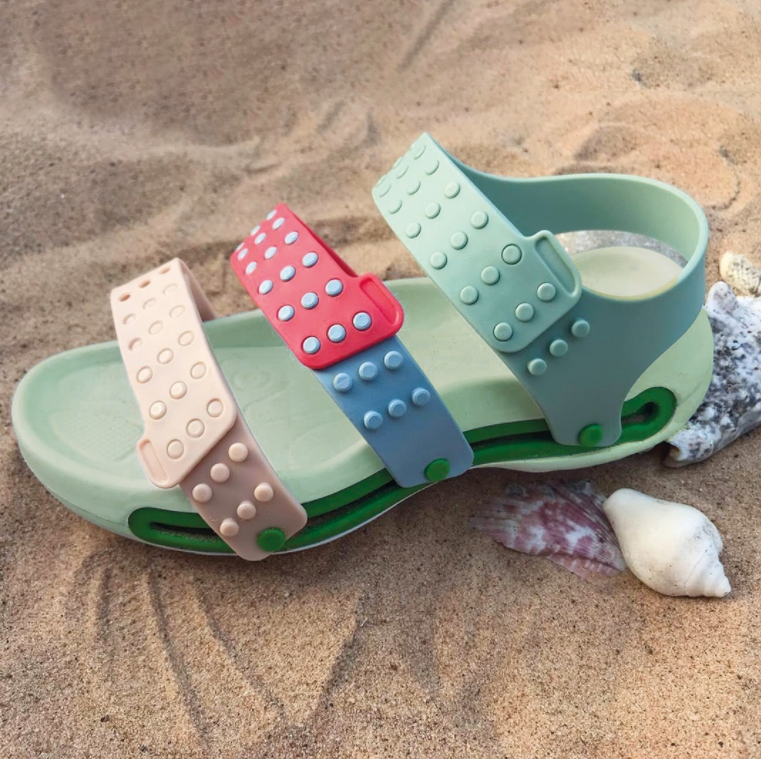 I have never been to design school and am not trained in footwear. But I come from an engineering background, so I was used to problem-solving and finding solutions. After a long discussion with the artisan, he told me he teaches a shoe-making course in the summer, so I enrolled. I completed summer school in Florence with other skilled artisans and learned the craft of making Italian shoes by hand. I also learned that over 48 billion shoes end up in landfills yearly! Again, I couldn't believe I had never asked myself what would happen to our shoes once we were finished with them.
Shoes cannot be recycled because they glue together so many different components, around 30-80 on average in one shoe. Once assembled, it is almost impossible to disassemble and recycle all the parts individually. I decided to find a way we could join the uppers and soles without permanently fixing them together.
The other problem getting to me was the 65% of ill-fitting shoe statistic! That was so unbelievable for me. It doesn't matter what you pay for a shoe; "wearing them in", getting blisters and having painful feet shouldn't be the norm. Our gliding mechanism allows you to slide the straps into perfect placement on the foot to achieve an exact tailor-made fit.
What can you tell us about your businesses?
It's my joy in life and passion to change the way we think about shoes. I started It's All About Shoes Ltd around our patented gliding mechanism and created a ladies' designer shoe. We spent three years developing in Venice with talented shoe designers and factories. We were due to launch in March 2020 when, suddenly, Covid hit. A decision was made to postpone the launch for three to six months. I don't think anyone expected it to go on for as long as it did. A year later, I was so disappointed, but no one was going out or travelling, so launching a designer ladies' brand seemed crazy. My daughter was pregnant and had a two-year-old that needed shoes. She complained about how difficult it was to buy him new shoes as they couldn't try them on. We hadn't previously thought of doing children's sandals, but I knew the patent would be awesome. I rushed to LinkedIn and started connecting with shoe designers with children's shoe market expertise. I found a great designer, and six weeks later, Heelz and Toez was born.
What has been your experience using Kickstarter to get your business off the ground?
We put a hell of a lot into marketing it. Timing is everything. Unfortunately, we missed our spot with manufacturing because most factories are six to ten months behind on orders. This meant we were unable to get the product out for summer. That was one of the main contributing factors to it not doing as well as we had anticipated. We have, however, had significant interest from a few investors, so that has been an unexpected bonus. But, from Kickstarter, we've got a great insight into what customers like and want, so it has doubled up as a helpful marketing survey.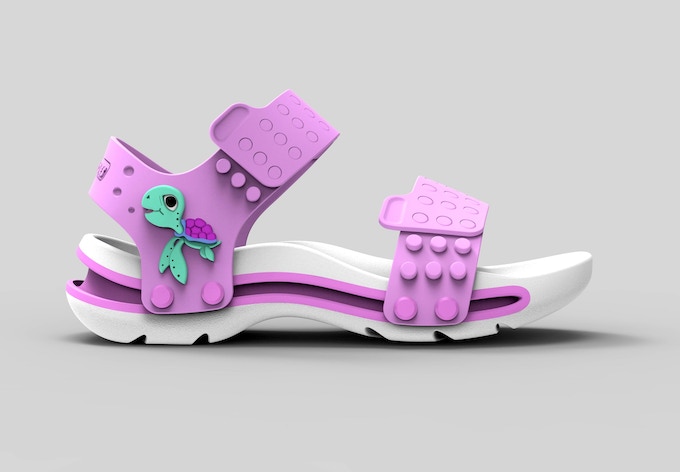 What have been your impressions of the footwear sector to date?
I truly have been blessed to have so many incredible and talented people around me who love the project and believe in me. Engineering and developing the project was challenging at times, and we had moments where it was hard to believe that a gliding mechanism in a shoe was achievable. But we carried on, and the results are incredible. Sometimes I still want to pinch myself when I see our children's shoes. But, as we know, Covid was the biggest hurdle as it delayed the project and manufacturing by almost two years.
We must reset the way we think about and buy shoes. A bold statement, I know. But, this comes from someone who owned over 300 pairs of shoes and was never prompted to think, "what will happen to these when I am finished with them?" Recycling is the only way forward. We must renew and reuse.
Have you done much research into the kids' footwear market? Did you come to any conclusions?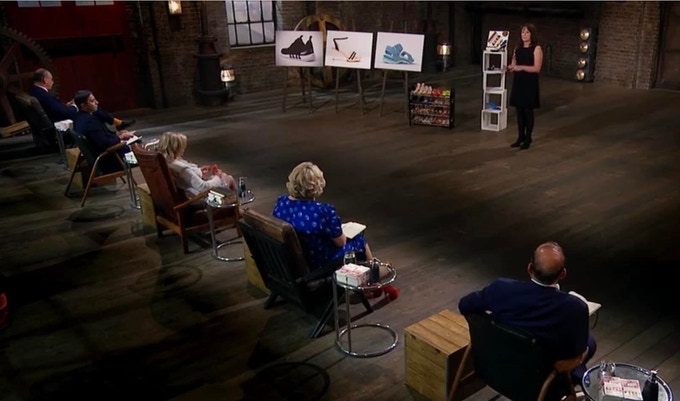 The most significant insight from my research was that, similarly to adults, 65% of kids' shoes don't and can't fit their little feet properly, and we know how imperative that is to their health. Yet it isn't an issue that takes priority. We need to be able to adjust shoes to each little foot.
It's a fact that most of us do not have two feet that are the same measurements. So, we know that a generic shoe cannot be one size fits all. The upside is that if we can adjust them, we are not permanently cementing materials together, meaning they can easily be disassembled and recycled.
Why did you choose to join the BFA as an Individual Member, and what do you hope to achieve next?
It's a great network of skilled individuals in the industry. It's great to be able to share ideas and stories to keep us all motivated; sometimes, just knowing you're all in the same boat helps. This is a hard industry to succeed in as you are up against big names and brands with big budgets. I have self-funded this on my own with friends and family to get to a point where investors take notice.
To feature on the BFA Footwear News Blog, contact us via: info@britishfootwearassociation.co.uk. Discover the benefits of being an Individual Member of the BFA, here, and access the application form. Find out more about Gaynor and her brand Heelz and Toez via LinkedIn and the business' website.