With the season of formal footwear and summer-ready occasion wear upon us, we speak to Agnès Cushnie, Founder and Marketing Director of BFA Member business Sante + Wade to discover more about her brand, its USP and the new Zero Waste Collection, which was launched in May 2022.
What is the history of Sante + Wade?
My business partner Shola Asante and I founded the business in 2018 and launched in the spring of 2019. Shola and I became friends in the mid-90s when we met at a modelling competition which now feels like an eternity ago! We discussed a few years ago how we both struggled with finding quality footwear that fit (being a size 8), and Shola started developing prototypes. We launched SANTE + WADE, a premium footwear brand offering a wide variety of styles up to a size EU46 to women who have been given few options because of their sizing requirements.
What would you say sets you apart from the competition?
What positioned us apart is that we don't treat our customers' needs for choice as an after-thought. We instead encourage them to picture femininity in all its forms, against old stereotypes in which beauty rhymes with "dainty" and women could not embrace their femininity if they were above a specific size.
Are you recognised for a particular style or type of shoe?
Our customers want to feel sexy and comfortable regardless of their sizing requirements. Our best sellers are the sandals category with products such as the Lara, which provide a feminine and flattering fit. Our sneakers category is also prevalent, including the Queenie, which includes a custom-made built-in memory foam sole for extra comfort levels, an essential aspect of the brand's identity. Our customers come back to us for the quality of the shoes and the breadth we offer.
What can you tell us about the manufacturing of your shoes in terms of materials, locations and perhaps any sustainability initiatives?
The design development stage is very rigorous, from the development of custom-made lasts to the making of the shoes. The process starts with the development of designs and bespoke lasts in the UK. Fabrics and materials are selected from some of the best European suppliers, and the manufacturing process is moved to Portuguese factories. SANTE + WADE uses FSC recycled packaging for its shoe boxes, recycled cork in the footbed of its sneaker and chrome-free leather on its products. Our company is also committed to continuously improving its sustainability practice, which is why we recently introduced our Zero Waste Collection this year.
The Zero Waste Collection is a great idea – can you share more about this?
The Zero Waste Collection is a new initiative established in May 2022. The idea is to optimise the supply chain by drastically limiting fabric waste during the cutting stage of the manufacturing process. The styles produced are exclusive and made in limited quantities. The first style to be introduced to The Zero Waste Collection is the Farida, a classic flat style perfect for the summer. The style comes in various colour options and retails at £165.00.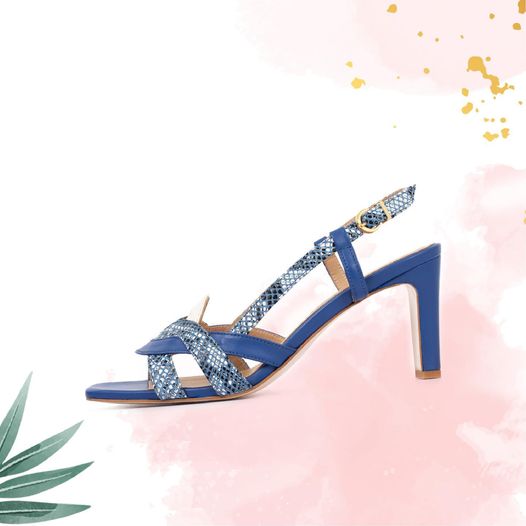 What do you think are the core challenges in the footwear sector right now?
I think the issues are generally shared among the retail sector and linked to consumer confidence dented by the past few difficult years. At the same time, demand for inclusive options has doubled, and in footwear, customers demand more choice. Managing a small business means that industry challenges are always something that has a direct impact on us, but we try to focus on long-term goals, as challenges will always be a part of the journey.
What would you say are current trends in the market and which ones are Sante + Wade focusing on?
Trends are important, of course, but we are trying to create classic contemporary designs that are easy to transition from one season to another. Our aesthetic always celebrates shades and rich patterns, which plays well with ongoing festive hues seen everywhere recently. This season we focused on neon and vibrant shades of pink, blue, and earthy green. Since the pandemic, there has been a shift for an increased balance between comfort and style. As people are going out again, whether to commute to the office or a party, heeled options are making a comeback, but practical heels are more in demand. Platforms are also a big trend.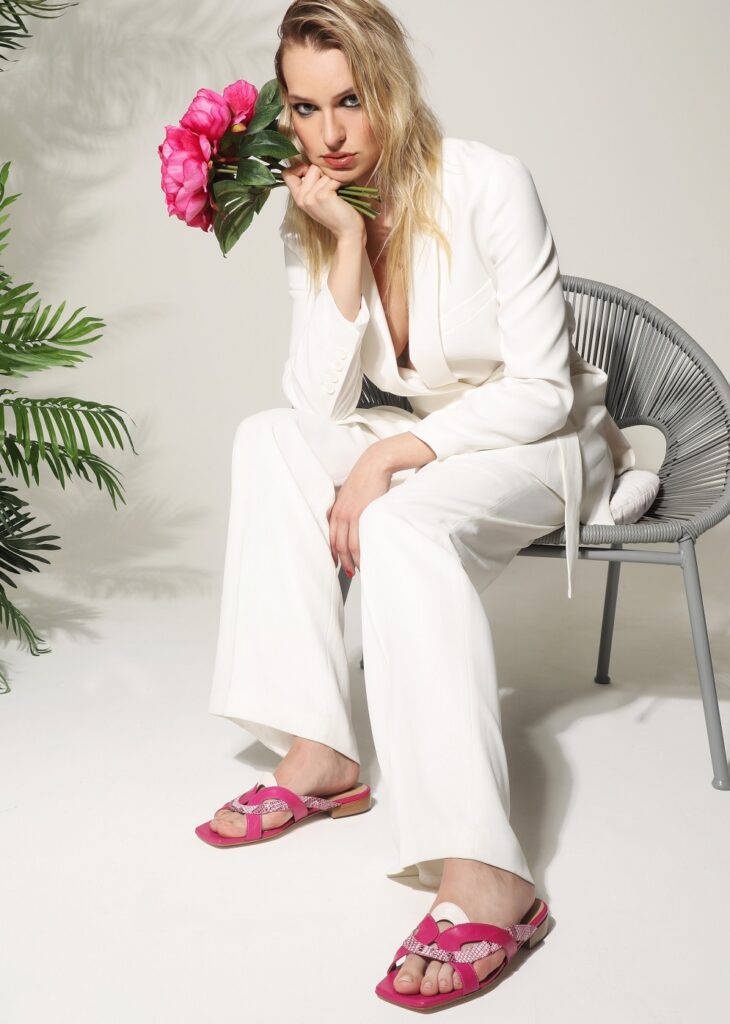 What would be your advice to anyone entering the footwear industry or anyone who wants to establish their own brand?
If you are a b2c brand, you need to understand the power of digital marketing and incorporate it into your strategy and create a narrative that sets you apart. Beyond that, you need partners to complement your skill set, be ready for challenges ahead and not be easily discouraged by potential setbacks, which are all part of the journey.
What are some of the things you'd wish you had been told when you got started in the business?
SANTE + WADE is the second business I founded. I created and ran a swimwear label eight years previously; I wish I had known earlier that being an entrepreneur can be a lonely journey and that having a co-partner makes it much easier to navigate the highs and the lows. Not that I would have changed anything! As I said, it's all part of the journey.
Finally, what do you think customers are looking for in footwear right now?
There is an increased shift towards sustainability and comfort, and I think most customers understand that this comes at a price. It's about finding the balance between quality and affordability, something we are mindful of achieving. And with the ever-growing influence of social media and the democratisation of communication, customers' wants and needs are more than ever at the forefront of product development. So, we are trying to listen to and incorporate customers' feedback into our design development process.
Find out more about Sante + Wade via the brand's BFA Member profile. To feature on the BFA Footwear News Blog, please contact us. Be part of our community. Join the BFA today as a business or individual. Follow Sante + Wade Founder Agnès Cushnie on LinkedIn.