BFA Member aspect climate projects is determined to create the best possible shoes for the climate using sustainable materials, meticulous methods of craftsmanship and a "slow" approach to fashion and design. Here, founder Alex Ward speaks to the BFA about his ambitions and goals for aspect climate projects and how he hopes to inspire others.
As the world shifts, consumer behaviour changes with it. Over the past few years, sustainability and ethics have become one of, if not the most critical concerns of people when it comes to what they're spending their money on. In addition, with the backlash against big fast fashion brands in our headlines, consumers are increasingly conscious of their purchases, especially regarding clothes and footwear.
While many brands are incorporating elements of sustainability into their designs, there are perhaps none out there doing it as meticulously as aspect Climate Projects. Genuinely sustainable from heel to toe, its groundbreaking use of cork, natural rubber, and innovative new material, Piñatex, means that every element of its design has been created with the planet and its people in mind.
The Start of Something New
Alex Ward is no stranger to the world of footwear and design; prior to launching aspect climate projects, he was full-time as Head of Design at Oliver Sweeney and also held a role at Pentland Brands. Throughout his career and various experiences, Ward was able to learn and participate in the complete process of creating footwear from design to launch. He says: "Being able to be involved from start to finish is really beneficial. It has definitely helped me get to where I am now and to be able to see the full picture."
Having grown up with environmentalist parents, Ward's past is rooted in issues of sustainability and working closely with nature. However, it was only when Ward started his own family that the outdoors started calling his name, and so he moved to a more rural environment to strike out on his own. "I had always felt a little uneasy about working in an industry that was producing to try and get people to consume more," he says. "I had always tried to work on products that were of high quality and as durable as possible and use that as a rationale for what I was doing."
But what about going the extra mile? A perfect storm of striking out on his own, discovering new and innovative materials, and noticing the shift in consumer behaviour, encouraged Ward to design his own shoe that looked good and was eco-conscious too. Ward launched aspect climate projects shortly before the pandemic hit, but he wasn't deterred by the challenges. "I think really believing in what you're doing and having a purpose is especially important," he says. "Nowadays, consumers want to understand why a brand exists and the motivations behind it."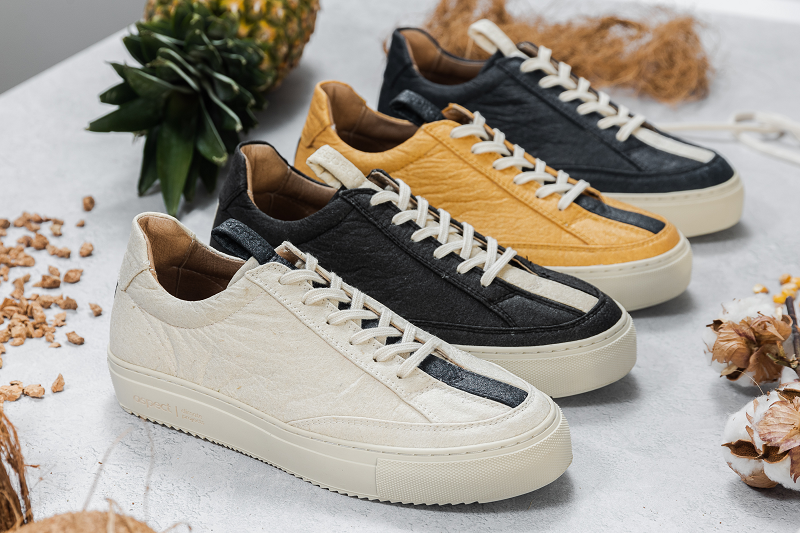 Not a Box Ticking Exercise
Ward wanted to ensure that aspect climate projects practised what it preached. Although he "respects every brand that makes an effort," he admits to feeling frustrated at misleading claims that suggest a shoe is made of vegan leather, for example, only for this to be a small percentage of its composition. He adds: "There are some brands doing brilliant things, but then I think sometimes they fall short by being vague about what they are doing."
Ward wished for aspect climate projects to be sustainable throughout. "What I wanted to do is completely dissect the shoe and go from the inside out; all of the reinforcement materials, the padding, the laces, the lace tips, packaging, upper, lining, and sole." Only by breaking a shoe down to its individual parts and making each as sustainable and environmentally friendly as possible could aspect climate projects achieve its goals. But designing a shoe with such a holistic approach has its difficulties. As Ward says: "It increases the amount of work because you're looking at everything, not just the headline bits for marketing purposes, which often are the upper and the sole."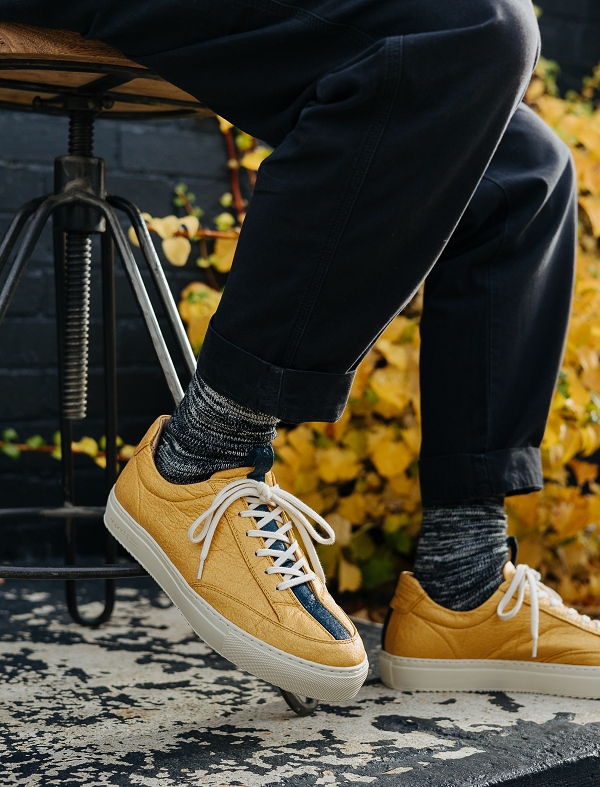 Sourcing wholly sustainable and ethical materials means developing an equally fastidious supply chain. On the challenge he faced, Ward says: "When I'm talking to suppliers and say to them, 'Have you got any sustainable materials?' they say 'Yes, this one is sustainable; it's got 5% recycled plastic in it.'" While many of the materials aspect climate projects uses are cutting edge, some are more straightforward solutions that have been under-utilised for a long time. This includes cork and coconut husks, which are not high-tech materials but are naturally high-performing and low-impact resources.
But Ward wanted to go even further. He explains: "We worked with a third-party company called Biodiversify which looks at the background of materials… They were looking at the impact that the materials had on the climate, so that's what we were using as our decision-making tool." Part of making sustainable decisions is also thinking ahead and not just being anchored in the present.
Ward adds: "They were looking at the impact of the climate on these materials. It is going to become even more important because as the climate continues to change, materials are going to be affected." Therefore, aspect climate projects footwear isn't just concerned with the here and now but what's going to happen in years to come.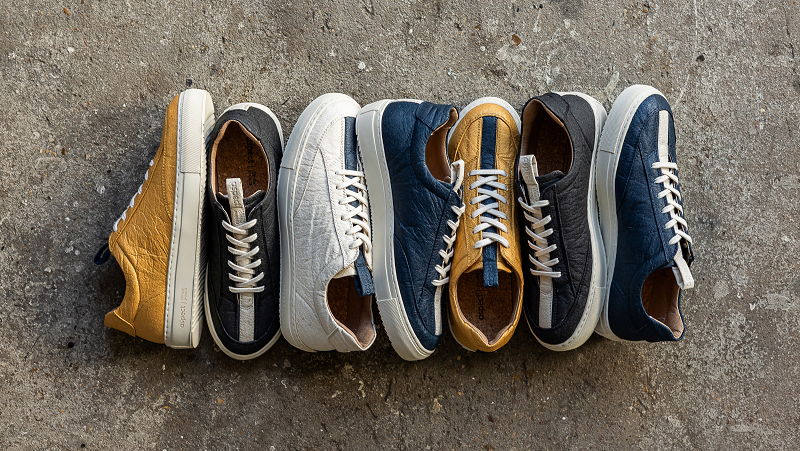 The Challenges of Sourcing
Ward knew what he wanted his design to be but finding and testing the right materials was no easy task. "It's difficult because you're fishing in a smaller pond for materials," he notes. "If you wanted to do a traditional shoe [or] a white leather trainer, you've got countless suppliers of those materials so you can pick and choose the ones you want. What we're doing became more specific." Ward trialled materials made from corn, cactus, and apple, as well as various fabrics. In true entrepreneurial style, he enlisted the help of his friends to test out the materials and get their honest feedback.
Ward remembers: "Any friends who were the right size, we were saying 'wear them as much as you can' and then give us feedback!" The next step was convincing suppliers that his was a product worth supporting. Ward says: "As a start-up, you're saying, 'We're not going to place a huge order. We're probably going to be a bit of a pain because we're going to ask you lots of questions. We're going to create a little bit more work for you than need', so it's a tricky one [for suppliers]."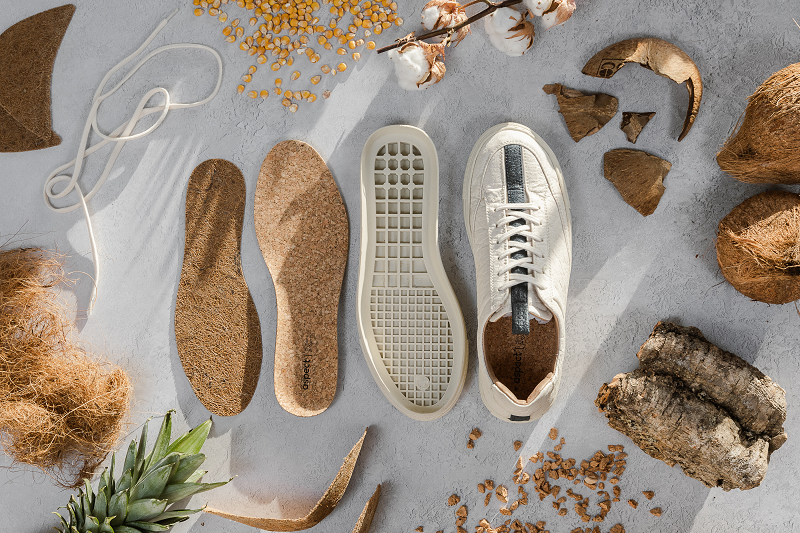 Noting these challenges with sourcing materials, Ward opted to focus aspect climate projects on a philosophy of creating the best shoe possible, one that he can be proud of, rather than compromising his sustainability principles. The unisex aspect climate projects Suber shoe comes in four colours: charcoal, marine, ecru, and antique gold. All come from the pineapple-based material, Piñatex, which is an important component. 
However, offering a tight line of products does allow for unique opportunities. "It allows you to go deeper into storytelling," Ward says. "It means that you can continue to tell that story rather than going back to square one every time you create a new product." In addition, it has helped him to become more disciplined as a designer, focusing on a shoe that can become iconic and synonymous with the brand. "We wanted something that was very timeless, minimal, and versatile; the pattern is slightly different to a conventional shoe and more like a bowling shoe."
The Future of Footwear
"People say, 'But what if people copy you?' and I think, well, what if they don't? I would love people to copy what we do and for it to be a level playing field where we're all using these great materials." Ward hopes to see the footwear industry embrace slow fashion principles in the future. He adds: "I think there needs to be more outside encouragement to do these things better. There are no tariffs on harmful materials, for example." He hopes for a future where aspects climate projects will be considered an everyday shoe and wants to see other brands sharpen their pencils, innovate and streamline, sacrificing margin and numbers for quality.
"People do care about sustainability, but [now] people are struggling to pay their bills, and so they have to make cost savings and therefore, this could get pushed aside a little bit." But he hopes consumers will keep applying pressure on the businesses they buy from. Ward continues: "Trends are driven by consumers, and if consumers want something, the brands will start doing it. If the brand starts asking for it, the suppliers will start doing it."
"I think a much bigger issue is that all of the incentive to do this is on us as a brand," Ward notes. "If we created a completely harmful shoe full of toxic materials, it would have been so much quicker, so much cheaper, and we would have made loads more money, simple as that." Without outside incentives producing truly sustainable footwear is an emotional decision and moral quandary rather than a beneficial business pursuit.
He concludes: "I think it's really important to keep growing awareness, keep pushing, and hopefully, there will be bigger forces at play that help to encourage positive practices over time."
Find out more about aspect climate projects via its website and its BFA Member profile. To feature on the BFA Footwear News Blog, contact a member of our team.