Having recently joined the BFA as an Individual Member, award-winning freelance footwear designer Eleanor Ferry shares insights into her career trajectory and some of the great projects she has worked on to date. Plus, she shares some advice for other footwear professionals who want to follow in her footsteps and forge an independent career in shoe design.
What is your background in footwear and where did you train or study?
I studied footwear design at DeMontfort University in Leicester, graduating with a first-class honours degree in 2011. I took great pride in the technical skills I had gained from my degree, having left with an in-depth knowledge of how to hand-make my designs. After graduating, my first full-time role was with a supply company. This was a great learning experience and gave me a real insight into the industry. I was able to work collaboratively with a range of buying teams who required fast-paced, high quality, competitively priced styles, whilst also working alongside a vast network of skilled and efficient manufacturers. I gained a great amount from this first role, such as an understanding of the technical pitfalls and constraints that result from large scale manufacturing.
"My working relationship with manufacturers became a huge resource to draw knowledge from; I really respected the craftsmanship and their willingness to teach me about their own factories and how their production lines worked."
Moving to London, I worked on branded product with an international consumer base, covering a vast market from the UAE to the USA. Designing for an international market was challenging, with each one having different range requirements, demanding more in-depth research. Working alongside a variety of buyers gave me key insights into different international consumer preferences. I believe that we never stop learning. I am obsessed with footwear and am regularly updating my knowledge through webinars, podcasts, expos, and publications ensuring I am always up to date with cutting edge processes and developments.
What inspired you to take the leap and become a freelance footwear designer?
In 2015 my mum was sadly diagnosed with kidney cancer and her health took a turn for the worse. Thankfully she survived and is flourishing today due to the incredible health service in Guernsey. This made me realise I needed flexibility in my work life to ensure I could always make it home and have the ability to work remotely. So, I found myself pursuing a freelance career.
I have been very fortunate over the years and found that most clients approach me through my online presence and industry connections. These are often clients who have a design concept to develop. Working closely, we refine ideas, discuss manufacturing and the technical and/or design requirements.
What have been some of your best experiences to date?
I love working alongside passionate people. I think the best designs come from good collaboration and a shared passion for the outcome. I have worked on so many innovative designs, such as biodegradable skate shoes, earthing shoes, and shoes that can be fastened single-handed. It would be so hard to pick just one that I am most proud of!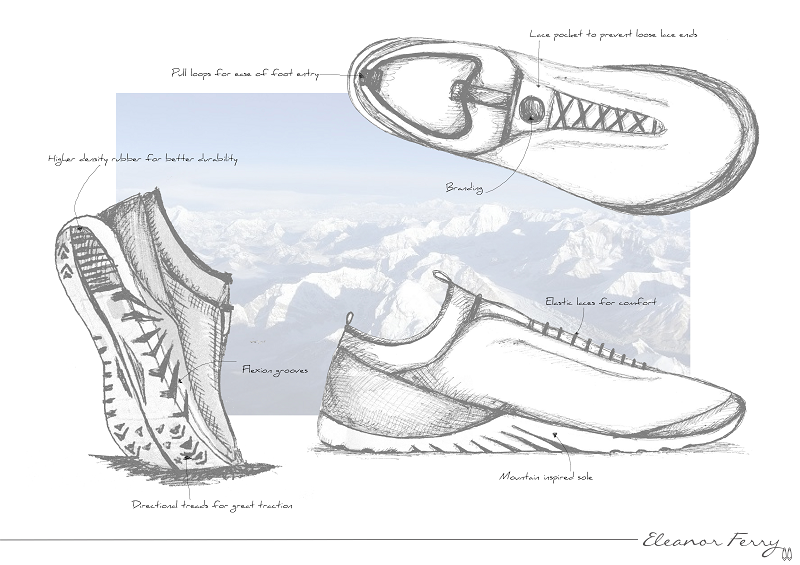 I find the use of sustainable and innovative materials exciting. I get a real sense of pride working on projects where sustainability is a key design requirement, as this is something I personally connect with. Foot health is an important factor for some customers, and I enjoy the technical challenges of designing for complex footwear requirements, such as wide fit, orthotics and common foot complaints. Designing outside of the standard commercial remit is very rewarding.
How does it differ working with a start-up compared to a big high street brand?
In my experience, the main difference in working with a start-up is that you are often the first port of call for someone without industry experience. You are helping an individual navigate and understand the industry, rather than working purely on the design element of a project. The customer may not understand all the associated terminology or have worked with a footwear manufacturer before. Established brands and suppliers often have networks of trusted manufacturers. They have selected units, colourways and range plans to work to, so the briefs are often more precise. It is usually a more focused brief with a faster expected turnaround. Designing quickly and accurately is a priority.  
You have worked on specialist shoes, range development, branding and sourcing… are these diverse skills what is expected of a freelance footwear designer? Do you need to be a master of many skills to excel?
For me as a freelancer having these skills and experience has been invaluable. Is it essential to have this skill-set as a designer? No. I create bespoke design packages for each customer, based on the requirements of the project. Not every project requires me to create a new brand identity, custom outsole design or liaise with factories. Having the knowledge from concept to production, however, does ensure maximum commercial viability. In the current climate, more people are starting up small businesses and it is great to be able to offer a comprehensive footwear service.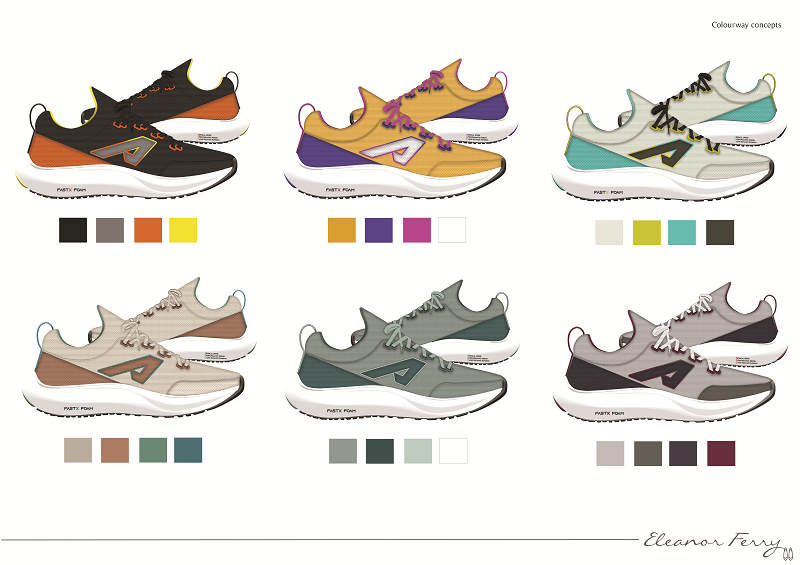 What is your advice to other freelancer footwear designers who want to succeed?
Get to know your customers and their client base. Dedicate time to research this, so each design reflects the brand and the consumer requirements. Get a clear, detailed brief prior to starting the work – it's almost impossible to get it right the first time around with a brief as simple as: can you design me a slip-on? Better communication means fewer amendments. Make sure you and your client understand what deliverables will be expected from each project and the timeframe for delivery.
Joining the BFA as an Individual Member is one of the fastest ways to access our community, tools and resources. Individual Membership is priced at £150 for a 12-month period. Complete the Individual Member application form here or speak to the BFA team for more information.
Read more Footwear Stories, including an interview with Kavita Basi of BFA Member, Ration.L, about her vegan sneaker brand.
Would you like to tell your story? Reach out to us today.