Launched in 2020 as a children's footwear brand, Lucky Cat Shoe Design had to pivot and diversify during the hardest days of the COVID-19 pandemic. Fortunately, Senior Footwear Designer, Developer and now business Director, Dan Spencer, was able to use his expertise and innovative mindset to turn things around. Here, we'd like to introduce you to a new BFA Member that is offering consultancy services to others in the trade… and with fantastic results.
After 25 years in the footwear industry working for the likes of Pentland Brands and Clarks, Dan Spencer launched Lucky Cat Shoe Design alongside his Co-Founder, Dola Zhang, in 2020. This was just before the pandemic hit, and the ravages of this period made bringing a new kids' footwear company onto the scene extremely challenging. As a result, Lucky Cat swiftly morphed into a consultancy firm, working with both established businesses and start-ups nationally and internationally.
Today, Lucky Cat Shoe Design is led by Spencer, Zhang and their business partner, Emma Mackintosh, who also has 25 years of experience in innovative design ideas. Together, they offer a range of services for the industry, specialising in children's footwear. From market research to CAD design, through to product development and manufacturing, the business utilises its vast resources to deliver a 360 approach from its offices in both the UK and China.
To find out more, we spoke to Dan Spencer to discuss how his past experiences helped him launch a successful consultancy business in the midst of a global pandemic. Plus, we discover what inspires him, how he has overcome challenges of late, and what's next for Lucky Cat in 2023.
What inspired you to start your own company?
The seeds of this company were sown in 2018 on a trip to China after Dola (Co-Founder) and I had a conversation in the back of a taxi. We had both worked for a long time in the footwear industry and decided it was time to try something ourselves. We were both at the right age with the right experience level, so we felt the time was now, or we'd regret it.
We wanted to create our own quality kids' footwear brand, starting with the UK school market. Using all our experience and expertise, we got SoleBuddy onto the launch pad for 2020. Then the unthinkable happened…the worldwide pandemic struck, which not only closed our route to market but also wiped out our entire consumer demand. We had to change our business model fast, so we morphed into the consultancy we are today. Emma then joined to add greater design experience. To concentrate on the consultancy business, we licensed SoleBuddy to Term Footwear to grow and sell the brand.
How do you work with different businesses and partners to achieve their goals?
At Lucky Cat, we tailor our way of working depending on the brand or project. When we are hired to oversee the whole of design, development, manufacture and delivery, we build strong long-term relationships with the client. For example, many start-ups we work with require a high level of support, and we often become integrated into their business as we all work together towards launching the brand.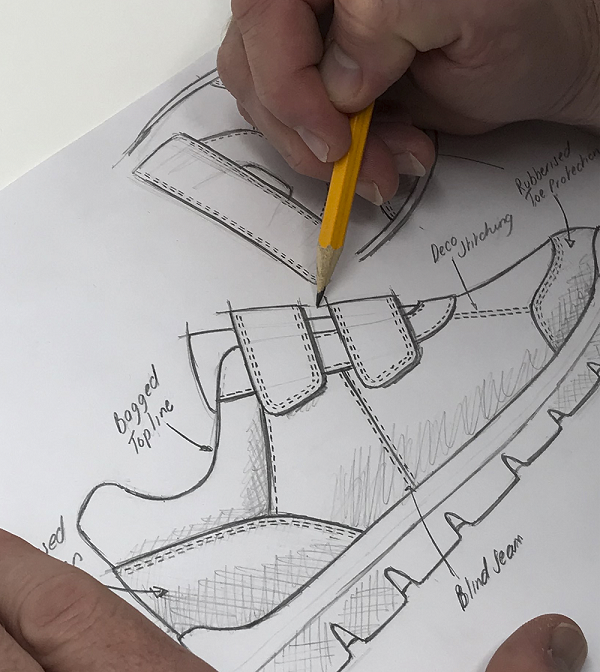 We are quite adaptable in our approach when working with bigger clients. For example, some clients require our design or 3D services, and we then work alongside their company personnel and technical teams to achieve their aims. To allow us to deliver our complete service, we form good working partnerships with factories, mould makers, tanneries, suppliers, last makers and forwarders.
Can you share more about the services you offer?
Our services basically cover concept to delivery of finished shoes. We find that established brands tend to dip into our services, most often our design or 3D modelling. Start-ups need the whole start-to-finish package, while agencies often 'bolt us on' to offer our services. At the heart of our services are design, 3D CAD, Photoshop and development:
Design: Emma and I have over 20 years of experience in both adults and kids' footwear design which covers a lot of our client's needs. We work with the client providing trend insight and research to create the story to support our design work. Where we feel a more specialist designer is needed, I dip into my network, or if a client already has a designer, we will work closely with that designer.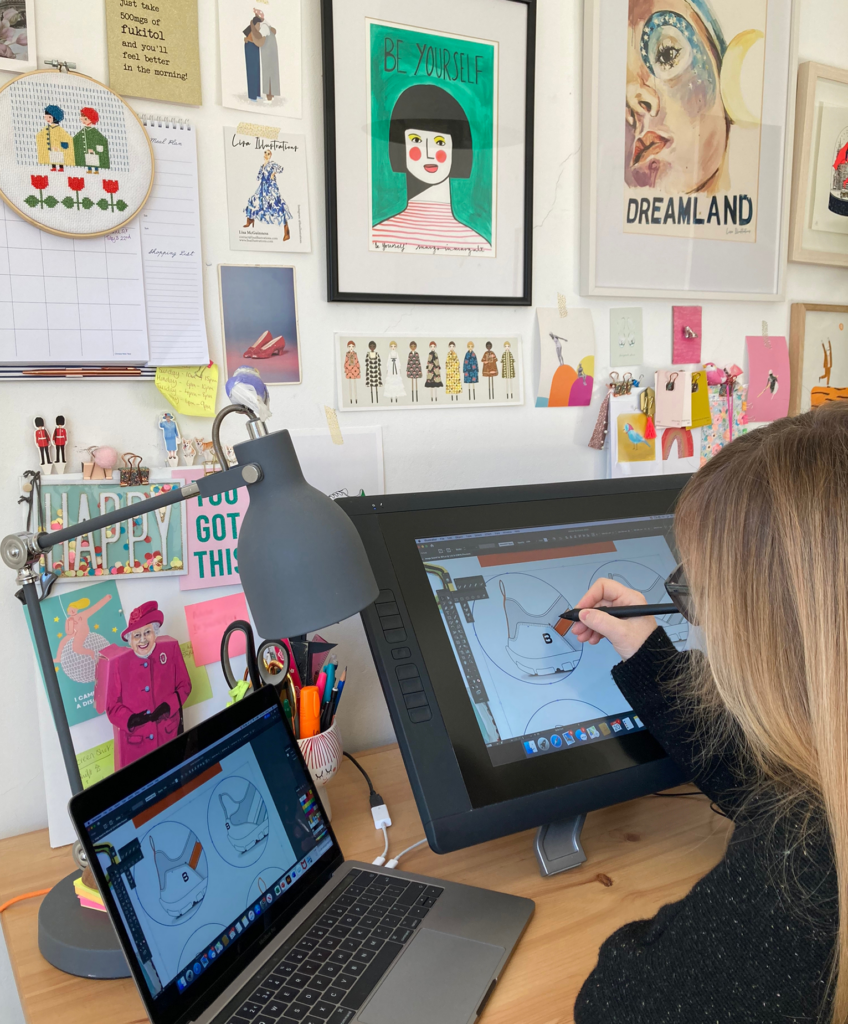 3D CAD: This is a much sort-after service which can cut development time down considerably. Starting with the 3D digital last, either working with a last maker or one from our existing library, we can create both the 3D sole model and the upper.
Sole modelling: I work on creating the 3D model of the sole unit in the UK with the correct technical aspects to suit each kind of soling compound. 3D data is generated and passed to our team in the Far East. They select the suitable mould maker and work closely with them to use our data to create a rapid prototype, a wood model and technical drawing. When we are happy and the client is happy, we can open a metal mould or a silicon mould to create flexible sole units for sampling.
Upper Modelling: As with the sole unit, we can create the upper model from the digital 3d last. Where upper modelling differs from sole modelling is often the end use. We use the upper model (whole shoe) as either a model that can be 3D printed or we use the 3D image for presentations. By rendering the models in the correct materials and colours, we can show our client the finished shoe without the need for samples.
Development: This is where Dola and Michele from our team in China take over. They will select the right source factory for the product and oversee the development of the samples from the first prototype to the confirmation sample. They visit the factory sample rooms constantly to make sure they adhere to our standards of fitting, technical requirements, aesthetics and materials.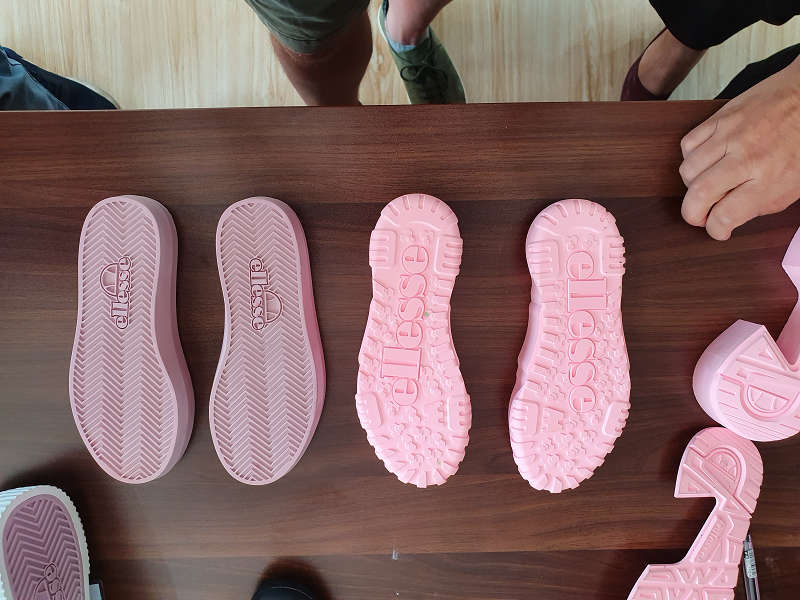 After the development stage has finished and samples have passed fit and wear testing, we move into the commercialisation stage. This is where we work with the factory to grade the patterns, sole moulds, knives and order all the bulk materials for manufacturing. We also check, negotiate, and sign off the final costings.
We oversee the manufacturing of the shoes, QC checks on the line and use accredited independent laboratories to do the physical and chemical testing reports. Aside from working on the shoes, we have designed packaging, shoe boxes, and product photography for websites and working with our forwarder partners to deliver the shoes to the client.
What is your approach to innovation as a company?
We always work with our suppliers to look for the latest materials, processes, and innovations. Anything eco-friendly is particularly desirable, as this is what many clients push for. When working with clients who have not come from the footwear industry, they often think outside of the box without the constraints of corporate decision-makers. So this allows us to innovate to provide what they are after.
We are also kids' footwear specialists, including design, fitting and technical requirements. We have found this to be a valuable string to our bow because many shoe companies simply don't have this in-depth knowledge, often taking down adults' lasts or relying on factories for fit. As you can imagine, we get lots of footwear projects that aren't your normal straightforward shoemaking! We have had to innovate customised fastenings, massage footbeds, diving shoes and barefoot technologies. I think for our company, it's not only essential to innovate ourselves but also to be aware of innovations going on in the industry that we can adapt to our client's needs. So keeping up with material technologies and new ways of manufacturing is very important.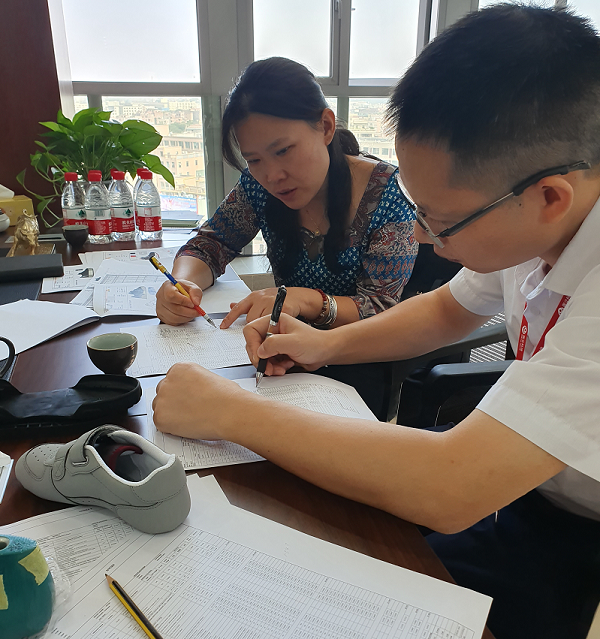 Why is it important to you to be part of the BFA, especially in today's climate? 
Being part of the BFA gives us great exposure to footwear businesses and allows us to tap into the experience and resources it has to offer as well as offer ours. Networking in this industry is very important, and the BFA is a great place to meet with others in the footwear trade. We probably receive 90% of our work and clients through recommendations.
The BFA can promote our business to the right people; we are predominantly a B2B consultancy, so carrying BFA membership really authenticates us. Lastly, the BFA is also a go-to place for resources and information on the latest footwear news and issues. Finding all this out independently takes huge time and resources. For our clients' queries, we can ask field experts for quick, accurate answers.
What projects are on the horizon for Lucky Cat in 2023? 
We will be launching three new start-up brands in 2023. In addition, we are working on more exciting barefoot shoes for BGreater, which we helped launch in 2022. Also, some new exciting products with Dubs, which we also helped launch last year, and our work on various projects with our bigger clients. Last year we created 3D CAD training courses for a client, which worked well, so this is an area that we hope to grow. We are also working with a diving company on a product that will disrupt the market and is ready to be launched this year…but that's all I can say about that!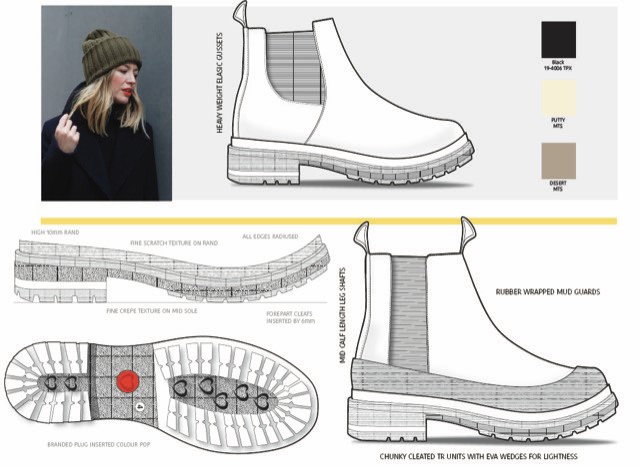 Finally, reflecting on your years of experience, what advice would you give to someone starting in the footwear industry?
From a personal point of view, gaining well-rounded experience has been very valuable. Learning the technical side of footwear development, 3D modelling, and design has given me a great understanding of the whole process. Taking time to develop your skills and listening to and learning from good, experienced people in the industry will build a great network and earn you trust and respect among your peers.
I would advise visiting last makers, mould makers, tanneries, and factories to see the whole footwear manufacturing process. It makes designing footwear, which can actually be made and commercially viable, much easier. One thing I can say is you never stop learning. Since starting Lucky Cat, I have learned so much about sales, logistics and supply chains…. the list goes on!
Find out more about Lucky Cat Shoe Design via the company's BFA Member profile. To feature on the BFA Footwear News Blog, please contact us. Be part of our community. Join the BFA today as a business or individual.