The BFA Footwear50 in Partnership with Micro-Fresh® is pleased to welcome new sponsors who are showing their support for this exciting debut initiative. Each has chosen to represent one of the six categories that make up this year's Footwear50 and celebrate the people who are selected to appear.
The British Footwear Association is pleased to announce the names of new category sponsors for the debut BFA Footwear50 2022 in Partnership with Headline Sponsor, Micro-Fresh®.
The Footwear50 will spotlight 50 people across six categories representing the most important, influential, and inspiring individuals in the footwear trade in 2022. The categories are broad in scope, allowing as many different types of business roles and professionals to be included as possible.
Below, we'd like to share with you the names of the brands and businesses who are sponsoring this year's Footwear50 categories and thank them for their support:
Footwear Retailers with Modular Commerce
This category is aimed at stakeholders at multiple and independent retailers, including buyers, managing directors, business owners and sales managers. Modular Commerce is a BFA Partner whose services include e-commerce support for independent footwear retailers, bespoke social media content and marketing, Google advertising assistance, and web management aid.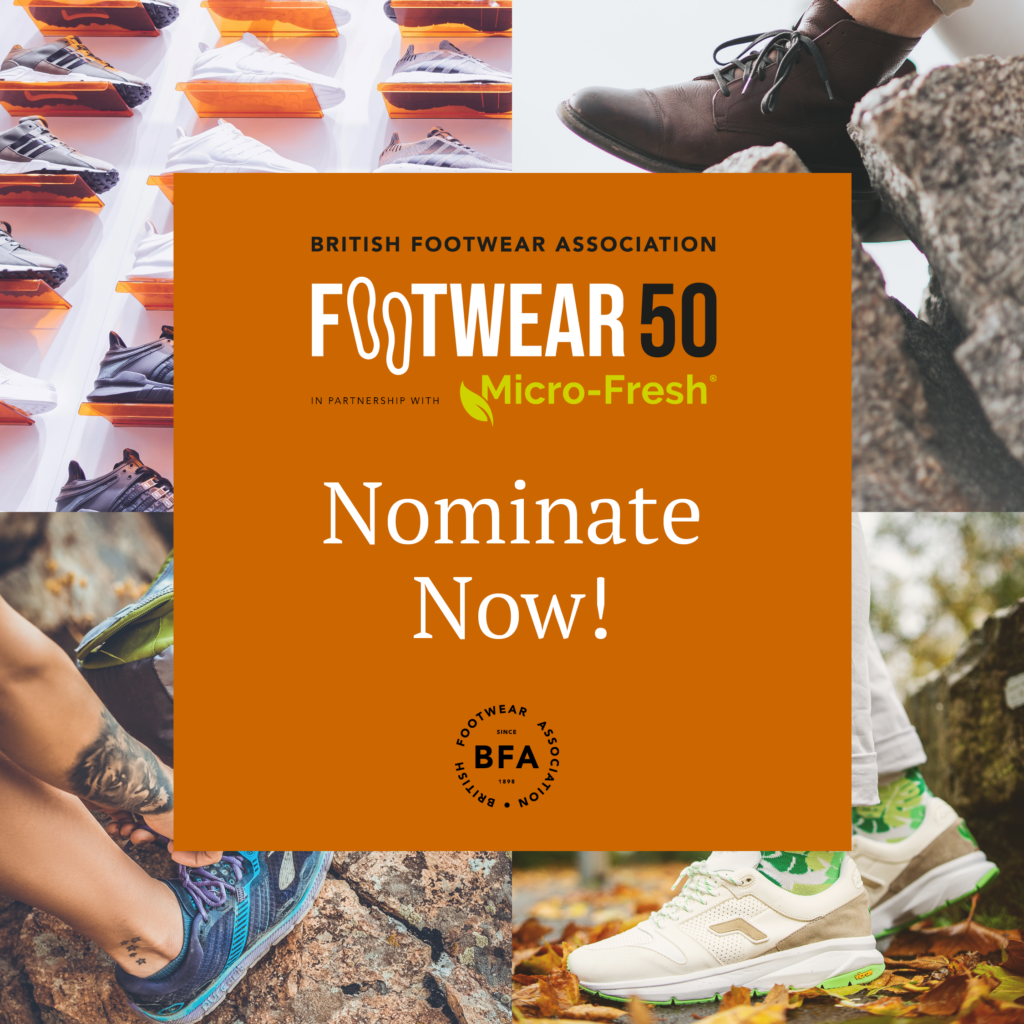 Footwear Manufacturers with Innovation Tax
This portion of the Footwear50 is focused on influential figures at UK manufacturing facilities and workshops, including production managers, owners, and business directors. We are pleased to welcome new BFA Partner Innovation Tax as the sponsor of this category. Innovation Tax is devoted to helping companies access Government funding through grants and tax incentives such as R&D Tax Credits, Capital Allowances and Patent Box.
"Innovation Tax is delighted to support the BFA Footwear50 by sponsoring the manufacturing category. There is tremendous innovation in the footwear sector with exceptional talent, and we wish all nominees the best of luck. Excellent initiative by the BFA, and we can't wait to be a part of it."

Sachin Chauhan, Director, Innovation Tax
Design Independents with Briffa
The people chosen for this category will hail from independent brands and start-ups and represent the best in emerging and established design talent. We are grateful for the support of BFA Partner Briffa and its team of intellectual property lawyers for sponsoring this category and spotlighting the importance of protecting and enforcing footwear IP rights.
"Briffa is delighted to be sponsoring the BFA Footwear50. The BFA represents the very best of the British footwear industry and this new initiative is another example of its efforts to champion creatives and innovators across the county."

William Miles, Partner, Briffa
Footwear Brands with schuh
This chapter in the Footwear50 2022 will include brand owners, creative directors, head designers and other influential figures at leading British brands. We are thrilled to welcome BFA Member schuh as the sponsor of this category. schuh is one of the leading fashion footwear retailers in the UK with over 120 stores in the UK, Ireland and online, selling over 80 brands as well as its own label.
"The footwear industry is an exciting community bursting with talented and innovative professionals. The Footwear50 is a fantastic initiative to give these professionals the spotlight they deserve. As sponsor of the Footwear Brands category I'm looking forward to seeing the influential figures that are putting the customer at the forefront of their decision making."

Colin Temple, Managing Director, schuh.
Footwear Suppliers and Wholesalers with Fiscal Solutions
We must recognise the contribution of individuals at footwear sourcing companies and wholesalers, including those running well-established and growing businesses. The sponsor of this category is BFA Partner, Fiscal Solutions, which provides specialist VAT support to businesses trading globally. It can help businesses ensure they are up to date with the latest and relevant VAT rules and requirements.
Footwear Supporters with Petaurum HR
Finally, this category acknowledges the significant influence and support of businesses that supply essential services to the UK footwear sector, including finance, legal advice, testing, auditing, trade show support and recruitment. BFA Partner Petaurum HR falls into this category and provides HR advice and support to businesses to help them thrive and flourish.
"We're delighted to be sponsoring the Footwear Supporters category in the BFAs Footwear50 initiative as we recognise the importance of those essential 'behind the scenes' services that make the footwear industry so great."

Adam Davey, Director, Petaurum HR
Nominations for the BFA Footwear50 in Partnership with Micro-Fresh® will be accepted until Friday, September 30, 2022. Further information can be found here. Further commercial opportunities are available, including bespoke advertising packages. Speak to a member of our team to find out more.
When sharing on social media, please use the hashtag #Footwear50, so we can stay in the loop. If you have questions, please don't hesitate to drop us a line at info@britishfootwearassociation.co.uk.
About Micro-Fresh®
Micro-Fresh® is an award-winning invisible technology that contains a natural active ingredient that blocks the growth of harmful and odour-causing bacteria to keep products fresher for longer. Micro-Fresh® supports footwear, textile, hospitality, health care, sportswear, and children's sectors globally. Our Partners include; adidas, John Lewis, Next, M&S, Primark, Tesco, Asda, Sainsbury's and Clarks Australia.