The latest BFA Footwear Trend Report for Autumn/Winter 2023-2024 was created in collaboration with BFA Member TOUCH LDN. TOUCH is a creative agency specialising in footwear and accessories design, development and trend forecasting. It believes that all businesses should have access to creative support, no matter how big or small, and aims to connect brands, designers, and retailers to consumers and their products in a deeper, more meaningful way.
We'd also like to thank the many BFA Members who contributed their ideas, images and mood boards this year, including Marks & Spencer, T&A Footwear, Eleanor Ferry, Hide and Lowe Design, and many more.
Scroll through this season's BFA Trend Report and you will discover four core themes delivered by TOUCH LDN Founders Louise Ryan and Andrew Lam. They are The Purist, Quiet Goth, Joyful Artist, and Comfort Survival. In addition, the TOUCH LDN team have looked even further ahead to 2024-2025 to highlight three future trends, focusing on well-being, digital technology and sustainable initiatives to 'redefine design'.
Elsewhere, BFA Members have shared their insights and themes for the upcoming winter season, leading to the addition of numerous chapters in this report, notably a 'Western Revival' focus and a reassessment of classic female work footwear for the post-pandemic landscape. Examples of those who've contributed include Rosamund Muir, Marks & Spencer, Jacobson Group, Cole Haan, and Eleanor Ferry, who represent individuals, small-to-medium-sized companies and corporate businesses in the BFA Community.
According to data seen by the BFA, in the year to September 2022, the footwear market was valued at £6.3 billion at the retail level, with 35 million buyers (49.1% women, 34.2% men and 16.8% kids market share). However, although the market has improved, we are still behind 2019 in terms of value… some £200 million behind. I understand that that figure may seem overwhelming, but there are reasons to be optimistic. The evidence we've seen suggests that consumers are willing to pay higher prices for brands they trust, even during the cost-of-living crisis. Building an authentic and trusting relationship with your clients through impeccable customer service is still a route to success.

Lucy Reece Raybould, CEO, British Footwear Association
BFA-Footwear-Trend-Report-AW23-24-Med-Res-Preview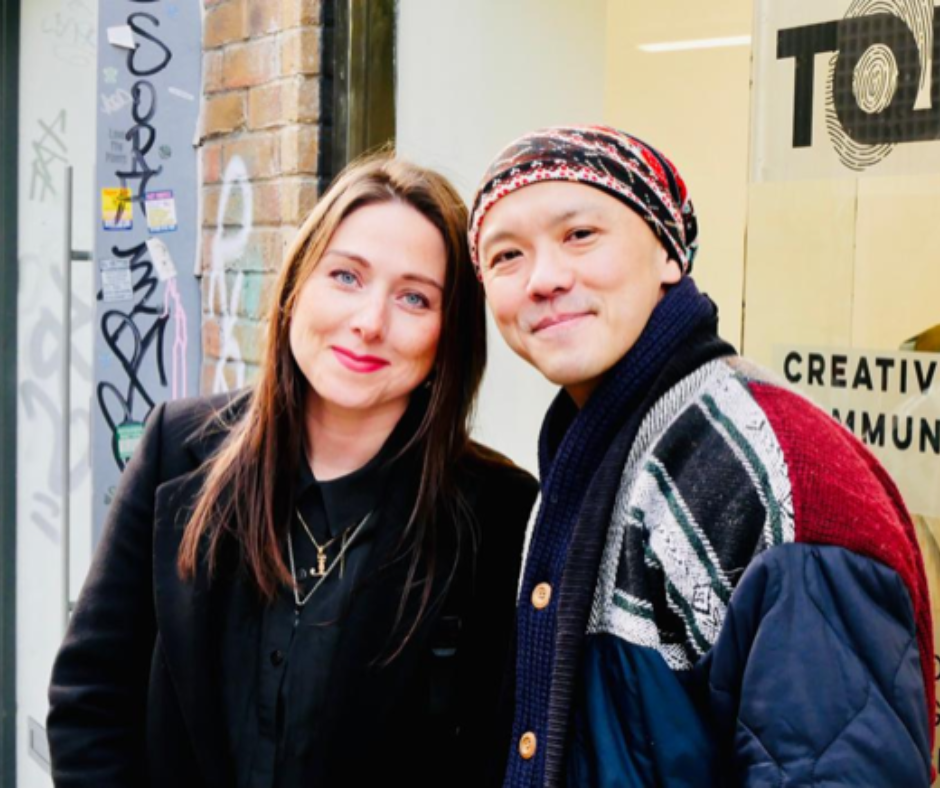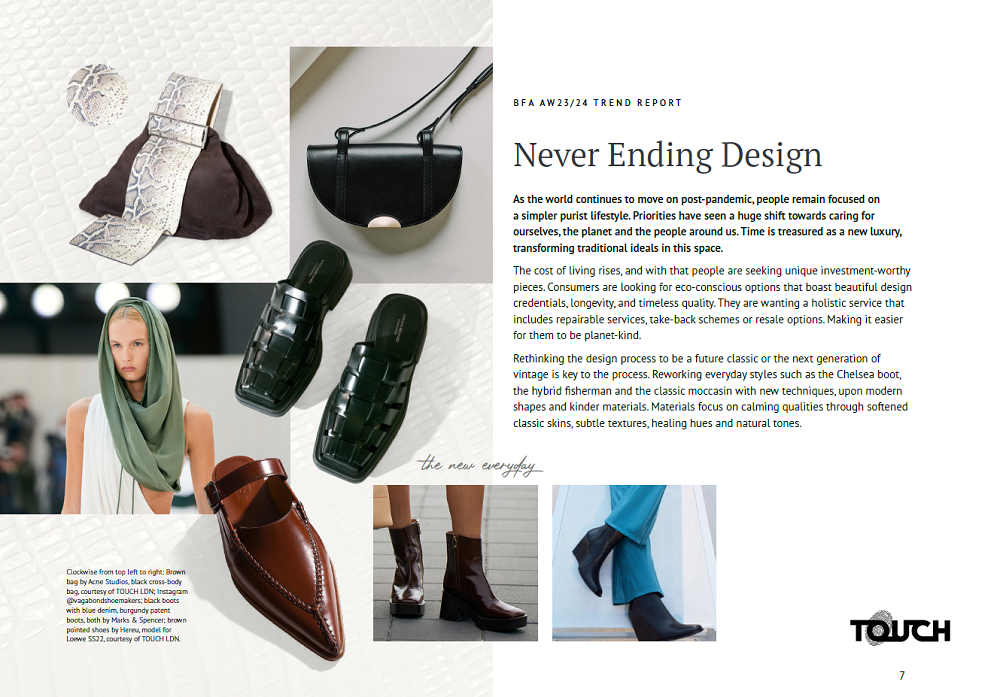 AW23/24 Key Trends Overview
Trends for the upcoming winter season cover formal workwear, colourful eveningwear and outdoor footwear to suit almost every occasion. In 'The Purist', we see a post-pandemic obsession with simple, timeless and classical design brought to the forefront. In contrast, 'Quiet Goth' is all about chunky soles, jet black finishes, textures and moulded shapes that have a robust edge. On the other side of the spectrum, we see bold colours, comforting fabrics and playful touches in 'Joyful Artist', which combine with metallics, sparkle, and shimmer in 'Creative Colours'.
The final trend supplied by TOUCH LDN, 'Comfort Survival', taps into a survivalist instinct with technical performance footwear that balances aesthetics and functionality. Of course, we can't forget the cowboy influence referenced by so many BFA Members, including Marks & Spencer, Flora Harrison, Jacobson Group, Cole Haan, T&A Footwear, and so many more! Look out for shades of tan, warm and chocolate brown across boots, loaders, heels and sneakers in the season ahead.
Now more than ever, items must appeal to multi-levels of functionality, versatility and aesthetics. Consumer mindsets are shifting; they are demanding more from products and expect to be taken on the journey from concept to reality, speaking up along the way if it resonates with them. Consumers are becoming communities, and brands are having to adapt to this and align with their ethics and morals. Footwear and accessories are unique to other product areas requiring specific skills, knowledge and understanding. We harness this to create inspiring, informative, and thought-provoking reports and overviews.

Louise Ryan, Co-Founder, TOUCH LDN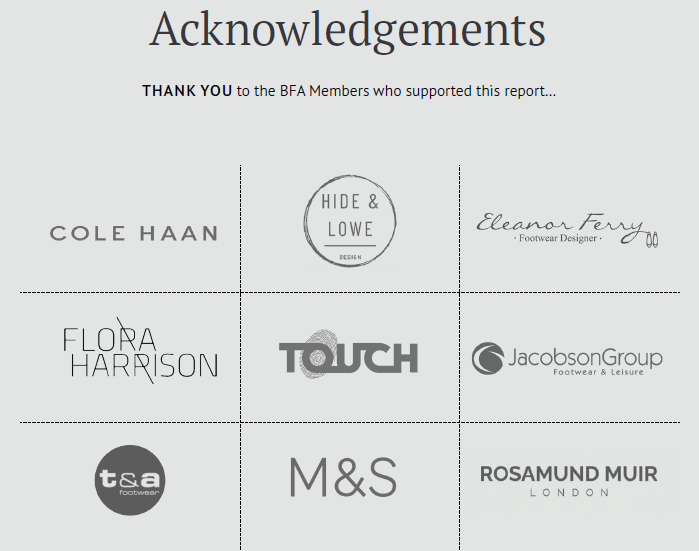 Download the BFA Footwear Trend Report AW23/24
BFA Members can download the complete BFA Footwear Trend Report AW23/24 by logging in and navigating to 'Industry Reports'. Non-Members can view a preview of the report (see above) and can contact us directly to discuss access on a case-by-case basis as well as membership packages. If you would like to participate in our next BFA Footwear Trend Report or become a commercial sponsor, simply contact our team.
Main image: Annabel loafers by BFA Member Rosamund Muir.