Don't be fooled by the matter-of-fact nature of its name because The Boot Repair Company is a multi-faceted business that boasts well-established collaborations, forward-thinking ideas, and innovative partnerships with leading brands. Here, we speak to Commercial Director, Gerald Forbes, to learn more about its progression since 2011 and its working relationships with fellow BFA Members Vivobarefoot and Dr. Martens.
The Boot Repair Company was formed in 2011 when two family businesses – Charles Birch Ltd and Craggs Shoe Repairs – decided to work together. The former is the UK's largest wholesaler of shoe repair components, while the latter is a retail and repairs business in the Leeds area that was once owned by Gerald Forbes' father-in-law. Craggs Shoe Repairs was approached by the Household Cavalry and the military's London barracks to provide essential repairs to riding boots, jackboots and the shoes worn by the Brigade of Guards. This was a contract not-to-be-missed, and after a trial period, Craggs won the work covering the whole of London, approximately 12 barracks, including the Wellington Barracks near Buckingham Palace. But there was a catch. The British Army required a weekly collection service and a fast turnaround of repairs. These boots had to be collected in person, which was tricky for a business based in Leeds. The time required to drive down, collect the shoes, return to Leeds and deliver the finished boots was difficult to achieve.
That's where Charles Birch came in. The family owners of Charles Birch (notably fourth-generation footwear professional Chris Wilson) and Craggs Shoe Repairs were friends and business colleagues. The former had a warehouse in Rochford, Essex, and this combination of compatible skills and geographic practicality put both businesses on a pathway of collaboration. The Boot Repair Company was formed shortly afterwards and is now led by Gerald Forbes' son and Managing Director, Tom Forbes.
Today, it is responsible for repairing boots for the British Army, Royal Navy and Royal Air Force, including the Household Cavalry's riding boots. It repairs up to 5,000 boots each year, with its highly skilled craftsmen repairing, stitching and welting boots by hand from Northern Ireland, across Scotland, Sandhurst College, and the sizeable Catterick Garrison in North Yorkshire. Its specialisms also encompass repairs for the Fire, Police, Ambulance and other Emergency Services, in addition to equestrian, motorsport and hiking footwear. To achieve this volume of repairs, the business employs 45 individuals and prioritises apprenticeships to transfer skills from one generation to the next.
The Boot Repair Company could have stopped with its military contracts but decided to expand its remit instead. Gerald explains that the business stepped into remedial work – receiving products from India or the Far East at its Rochford warehouse and making improvements and repairs. He explains: "Perhaps an eyelet was missing, the shoes were worn, or a bit of stitching had gone… basic repairs for us, but to an importer, these were difficult to sort out." Rather than risking landfill, The Boot Repair Company solved a significant problem for footwear importers and ensured more products reached their intended audience: the British consumer.
Sustainable Services with Vivobarefoot
With all this success providing the backbone of the business, the next "major turn" happened around three years ago, when Galahad Clark, seventh-generation cobbler and Founder of Vivobarefoot, went to meet the team in Leeds. Gerald explains that Galahad's vision was to see shoes regenerated, brought back to life and then sold again, rather than sending them to landfill. "Companies could have repaired a large percentage of their returns under warranty," Gerald explains, "but it was too much hassle for companies to do that, so they were just replacing shoes. There was a build-up of footwear that had been returned in regional distribution centres (RDCs) up and down the country." The goal was for Vivobarefoot and The Boot Repair Company to work together to find a sustainable solution.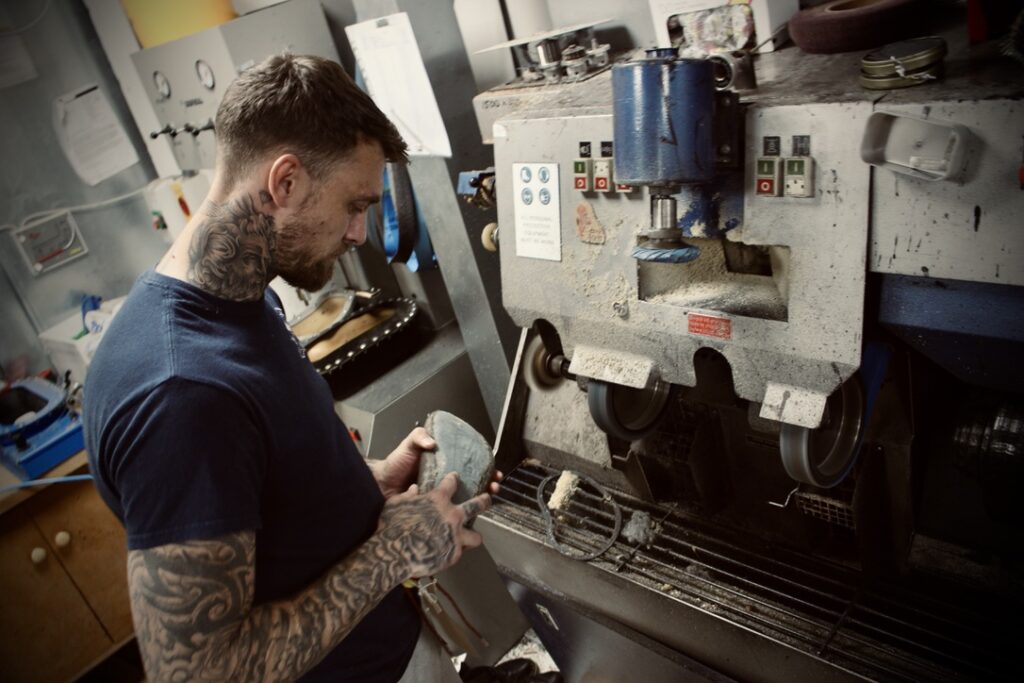 The result was Revivo – a joint venture between The Boot Repair Company and Vivobarefoot that takes worn shoes and reinvigorates them to provide an "end-of-life solution". Customers can purchase second-hand shoes based on the level of repairs they receive, which are named Refresh (light cleaning, new stitching), Recondition (resoled footwear), and Revive (complete overhaul with Micro-Fresh). Revivo was launched just as Covid was breaking in 2020, but the new concept went from strength to strength.
The innovative Revivo pricing policy has worked well, and this, coupled with its seasoned shoe-repairing skills, means that The Boot Repair Company has developed a niche business model that can be replicated for other "pioneering footwear brands," according to Gerald. He says: "Repairing is coming back into fashion. People want to have things repaired; they don't want to send them away or put them into landfill. Vivobarefoot were the first to do it, and now Revivo has grown significantly and is a multimillion pound brand."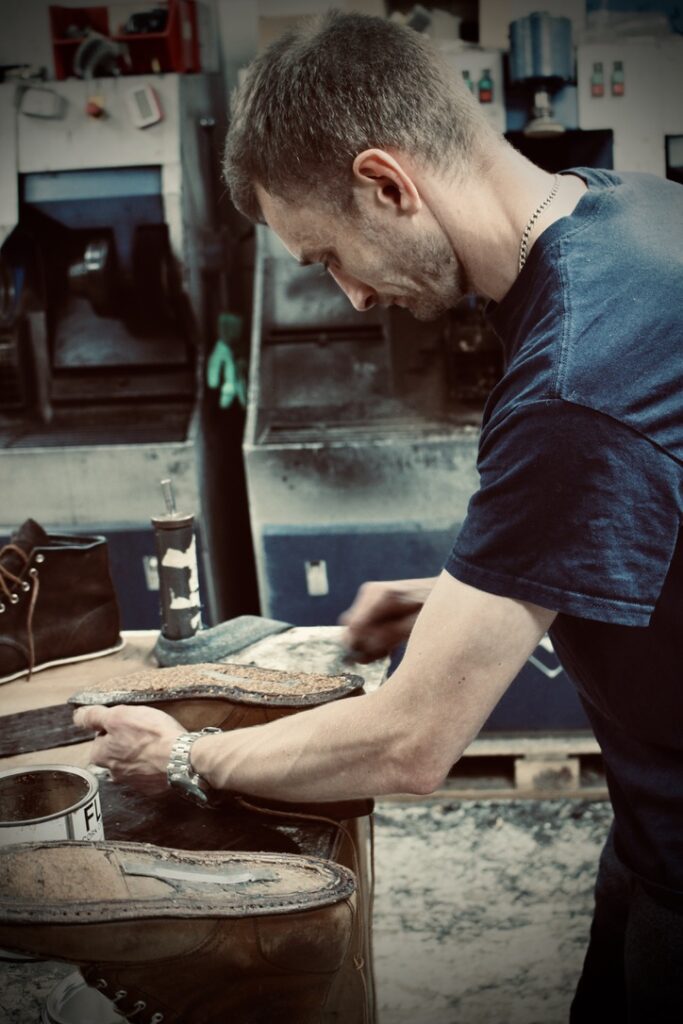 The Boot Repair Company's relationship with Vivobarefoot goes deeper, though. As Gerald explains, The Boot Repair Company handles the returns processing for all Vivobarefoot's returns in the UK market. Its team uses its knowledge of footwear construction to assess each pair, decide what can be repackaged and go back into general sale, and what needs further investigation. So, for example, some shoes will need cleaning and reboxing, whereas others may have been worn for three months and returned with a fault. These shoes are graded and sold through Revivo. This ultimately means that the chance of a pair of Vivobarefoot shoes ending up in landfill or clogging up a regional distribution centre with unsold stock is drastically reduced.
The Next Step with Dr. Martens
"People are now quite willing to send shoes or boots for repair," Gerald says. "The secret to it is to have a fully skilled, time-served shoe-making workforce and to also have the original components to replace or do the repairs. Now, we also work with other great footwear brands such as Dubarry, Red Wing Shoes and Birkenstock." The Boot Repair Company is built on these partnerships, with the brands supplying the correct components, materials and buckles to ensure like-for-like replacements. Sometimes, these relationships go one step further, resulting in specialist training and equipment being supplied by a brand so that The Boot Repair Company can repair footwear to nuanced specifications. This is certainly the case with one of its newest partners, BFA Member Dr. Martens.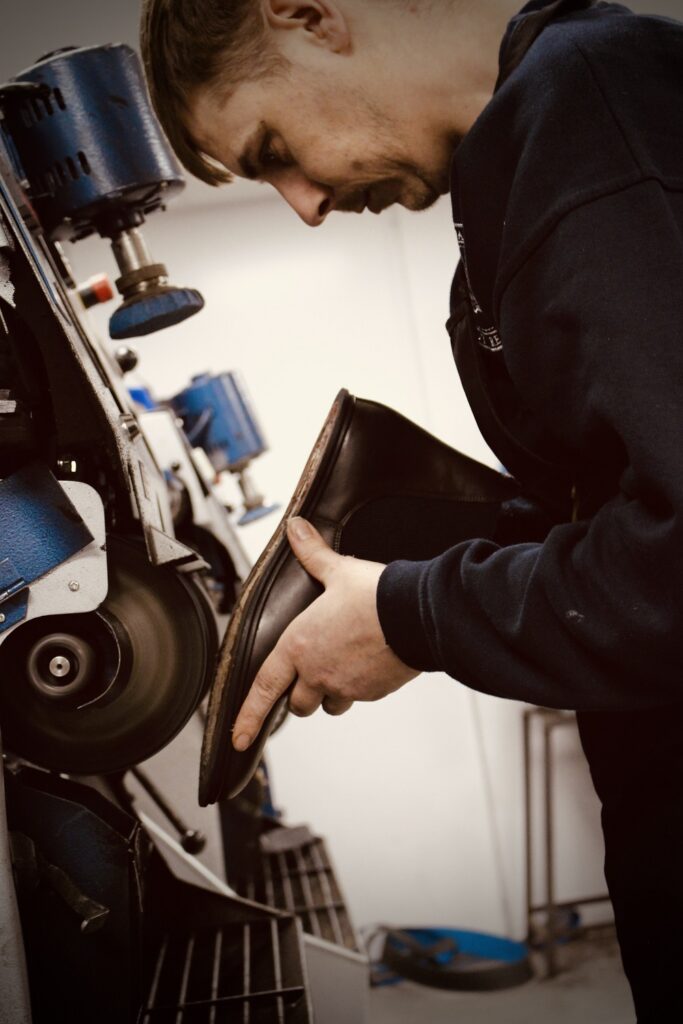 Working with Dr. Martens has also inspired The Boot Repair Company to accelerate its focus on apprenticeships. It has committed to take ten apprentices in 2023 and is working with Leeds Council to find the right candidates, especially among school leavers. Those who join the business at the start of their careers in footwear receive in-house training covering all aspects of shoe repair. Gerald continues: "We also work with local schools, and we're prepared to offer employment for people, so their working day fits around their child's schooling. We allow them to drop off their children and come in at 9.30 AM and work until 2.30 PM. It's getting people back into employment locally." The Boot Repair Company has also partnered with a local bike company to provide second-hand bikes to staff who would prefer to cycle to work, which Gerald describes as being "very popular."
The Future is Bright
Looking ahead, The Boot Repair Company has acknowledged the challenges associated with moving stock around Europe following Brexit. As a solution, it is opening a repairs centre in Amsterdam in late 2023. Opening a facility in Europe is a very exciting project for the Boot Repair Company and Gerald feels confident that consumer sentiment around sustainability, recycling and smarter purchasing will guide the business' further future development.
He says: "Going forward, more companies are feeling the need to look at what they are doing with their returns. The Boot Repair Company turns dead stock into good product that is available to buy, and the brand can turn their stock back into cash while stopping product from going to landfill. "This is a main driver for us as a business; we want to stop that. We want to have as much of an impact as we can." With this in mind, we look forward to discovering who The Boot Repair Company will collaborate with next.
Discover more about The Boot Repair Company via its website. You can also dive into the Revivo website here to discover more about its repair processes. Become a BFA Member today by finding out more or contacting a member of our team.