By drawing on trend forecasting insights from within its base of Members, the BFA has created a 35-page guide to the upcoming season supported by real-world information, imagery and buying directions.
The British Footwear Association has created its debut Footwear Trend Report for the AW22/23 season, bringing together the opinions of its Members to offer a concise overview of the markets for women, men, teenagers and children.
To create its report, the BFA team reached out to the complete roster of BFA Members and asked for insights into the AW22/23 season. The information received included mood boards, profile predictions, concept sketches and buying patterns, as well as overviews of AW21/22 best-sellers to provide much-needed context. The BFA has used this plethora of information to distil the most significant trends for women, men, teenagers and children and create a useful resource for its Members to download and use as a reference.
"We spend much of our time here at the BFA wading through legislation, navigating customs and pondering the complexities of international trade. This is swiftly followed by issues like staffing, future-proofing skills, bolstering British manufacturing… I could go on. Trends often fall by the wayside, not because they aren't important, but because they are overshadowed by the nuts and bolts of business-as-usual. However, there's something optimistic about trends – a reminder that the cycle of fashion is always churning, and changes come whether we like it or not," Lucy Reece Raybould, CEO, British Footwear Association.
One of the most useful aspects of the BFA Footwear Trend Report for AW22 is the inclusion of mood boards supplied by the likes of T&A Footwear, schuh and Goldline. These offer a fascinating insight into the sources of inspiration that some of the BFA's most influential and active Members are using to direct their footwear design and assortment planning for the upcoming season.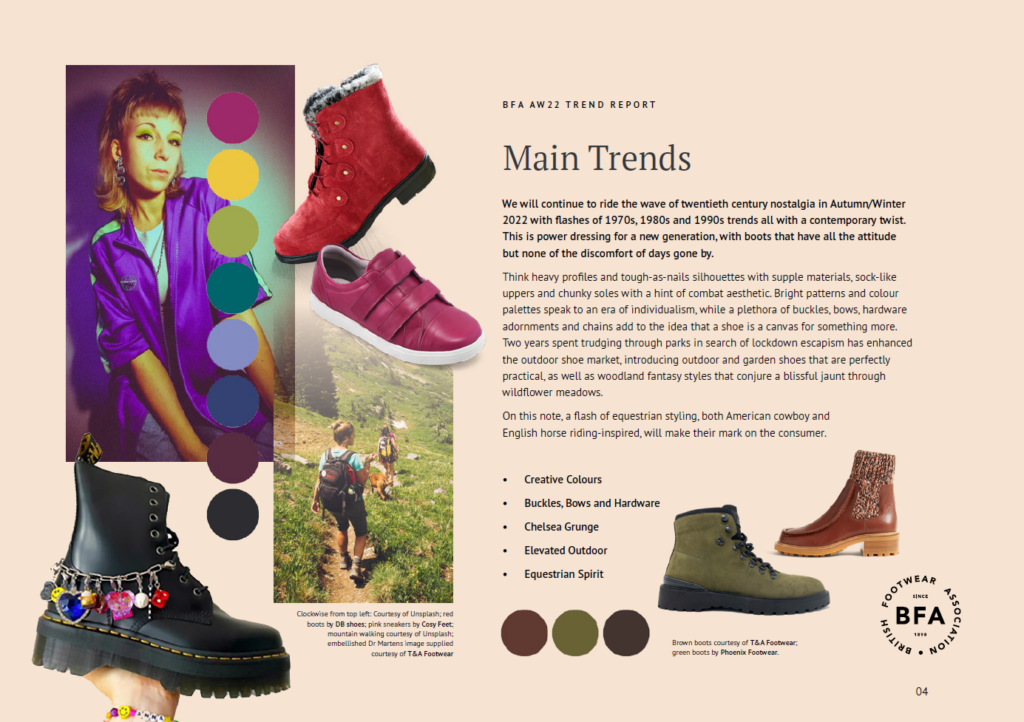 To expand its scope, the 35-page PDF document also includes insights from Michael Lewis, Founder and Creative Director of mosii-england; Phil Cody, Director of Phoenix Footwear; Tim Payne, Managing Director of Retail at Charles Clinkard; Jo Trevena, Head of Product and Merchandising at Foot Shop Ltd, and Anthony Freeman, Senior Designer at William Lamb Group.
"Our Members have provided a wealth of interesting information for us to wade through and find patterns in. The Footwear Trend Report is our way of condensing this information for the benefit of everyone in the BFA Community. I am especially grateful to all those who supplied quotes, mood boards, pictures, sketches and even detailed guides to fabrics and fibres… this is a testament to what can be achieved when BFA Members collaborate and share knowledge," Nicola Adams, Business Development Manager, British Footwear Association.

As part of its package of membership benefits, the BFA regularly updates its digital resources and adds new PDF documents to its online library, including monthly Retail Reports and Quarterly Import and Export reports. Members can also access recordings of monthly webinars to watch in their own time.
Download the BFA Footwear Trend Report AW22
BFA Members can download the complete BFA Footwear Trend Report AW22 by logging in and navigating to 'Industry Reports'. Non-Members can view a preview of the report (see above) and can contact us directly to discuss access on a case-by-case basis as well as membership packages.