We are pleased to launch the BFA Footwear Trend Report for Spring/Summer 2023. This new PDF report has been created especially for BFA Members and Partners, using information, ideas and imagery supplied from within the BFA Membership.  
Earlier this year, the BFA launched its debut Footwear Trend Report for AW22/23. Our goal was to translate trend information from within the BFA Membership for the benefit of other Members and Partners who may not have access to the same trend forecasting resources. We had an excellent response to the debut report, and we know from our download data and social media analytics that it was widely read.
Now, we have added a similar BFA Footwear Trend Report to the Membership Resources area for the SS23 season.
"This report aims to spotlight core trends in a more refined and quick-fire fashion. Rather than covering all bases, we are homing in on what we perceive to be the essential components of a fashion-forward SS23 assortment, including colours, styles and shapes. Also, in this report, we consider the consumer personas you may meet in SS23 and how their attitudes influence their decision-making."

Lucy Reece Raybould, CEO, British Footwear Association
Footwear Trend Report SS23: Overview
Colours are vibrant, neon and unashamedly flashy. Embellishments are returning to footwear and adding the necessary exuberance to comfortable block heels and wedge sandals. Consumers have little interest in returning to the painful stilettos of the past; shoppers demand a conscious mix of comfort and creativity for SS23.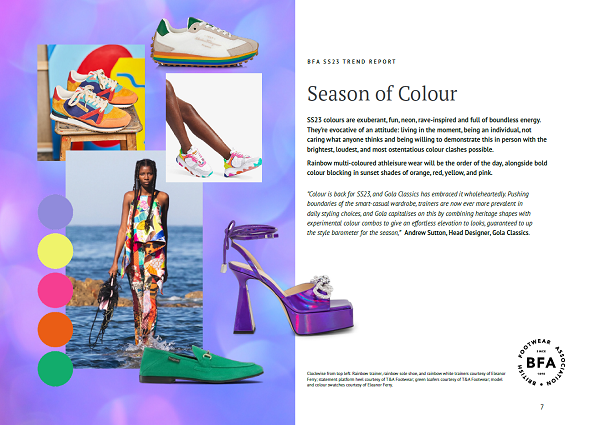 But the contrasting lure of the outdoors remains. The feeling of being at one with and surrounded by nature is a driving force. The continued demand for sustainability needs to be felt, whether through natural fibres and soft, weathered fabrics or relatable shades of taupe, nude, green, brown, and soft ochre. Demonstrating artisanal craftsmanship, recycled materials or eco-friendly credentials are important selling points.
There's contrast at the heart of SS23 trends…
Party meets perceived purity. Glitter, sheen and sparkle are juxtaposed against the great outdoors, a crafty aesthetic and natural hewn fibres. For the consumer who wants to have their cake and eat it too, SS23 appears like a remedy for the soul.
SS23 Trend Focus
Sustainability Meets Comfort
Low Impact Materials
Recyclable Shoes
Adaptable Occasionwear
Multifunctional Outdoor Footwear
Sky-High Flatforms, Wedges and Platforms
Embellishment, Sheen and Shimmer
Vibrant Colours
We would especially like to thank BFA Members T&A Footwear, schuh and Jacobson Group for providing detailed and insightful information and imagery for this report. BFA Individual Member Eleanor Ferry has also been instrumental in bringing this SS23 Trend Report to life.
Download the BFA Footwear Trend Report SS23
BFA Members can download the complete BFA Footwear Trend Report SS23 by logging in and navigating to 'Industry Reports'. Non-Members can view a preview of the report (see above) and can contact us directly to discuss access on a case-by-case basis as well as membership packages.
If you would like to participate in our next BFA Footwear Trend Report or become a commercial sponsor, simply contact our team.
Main image: Carlotta silver heeled shoes by BFA Member Rosamund Muir.